| | |
| --- | --- |
| When: | 10/20/2018 10:00am - 4:00pm |
| Contact Name: | HOPE CITY CHURCH ACCRA |
| Phone: | |
THE PURSUIT
Our God not only longs for us, but chases after those who chase after him. In our pursuit we find wisdom, we discover his plans, We align ourselves with His purpose, and we capture His heart for us and others.
My prayer is over this conference of the pursuit, is that we find answers to the challenge in our lives and hearts, we find equipping for His incredible plans and we find our hearts settled and connected in the presence of the one we pursue 
Ps Jenny Gilpin
SPEAKERS
JENNY GILPIN
Jenny, along with her husband, Dave, is the Senior Pastor of Hope City Church. She has a precise prophetic anointing which she vocalizes with unmatched finesse. Jenny's voice will inspire you to advance into new territory with poise, journeying you towards discovering a deeper confidence and knowledge of your true value. In 2004, Jenny started City Hearts to help support women with life-controlling issues. City Hearts has since expanded, opening numerous houses for survivors of Modern Day Slavery. Since the birth of City Hearts, they have pursued the freedom and restored the lives of over 4200 women, men and children across Europe and Africa.
LEAH CHILENGWE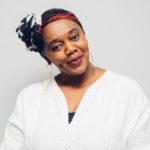 Leah is the founder of "Life with Leah" where she mentors others to develop successful & Godly principles. Her heart is to strengthen and empower you to succeed. She will inspire you to boldly step into your God given assignment.
DATE: October 20th, 2018
TIME: 10AM – 4PM
VENUE: 7th Ringway, Osu, Accra.
TICKET: GHC 35 – Adults, GHC 20 – Concession, GHC 10 – Teens
Location Info
SHE IS AFRICA CONFERENCE 2018 – THE PURSUIT