Heavyweight London DJs Neptizzle and Fiifii take their Afro Paradise Party experience to Accra!
Accra are you ready for an action packed day at Afro Paradise Day Party?!
Music – Food – Drink – Games – Swimming Pool & More
With top international DJs supplying the sounds.
Early Bird & Mosquito tickets are sold out! Get your Night Owl tickets now!
DJs on the day will be:
NEPTIZZLE (UK)
FIIFII (UK)
MIC SMITH (GHANA)
VYRUSKY (GHANA)
GIORDAN CHASE (NETHERLANDS)
AKUAA (USA)
BIG L (GHANA)
RACHAEL ANSON (UK)
MERCEDES BENSON (UK)
KOPEMAN (UK)
GOLDKAY – HOST (UK)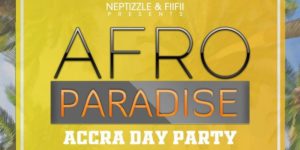 Afro Paradise – Accra Day Party
by DJ Neptizzle & Fiifii
Location Info
Accra, Ghana Accra, Ghana, Accra, Ghana 00233